Fiber Optic Patch Cords and Assemblies
We provide all necessary product and support to build and manage your fiber optic network and infrastructure simply better, faster, and at a lower cost than anyone. Period.
All Optaka product is TAA compliant.
Fiber Optic Patch Cords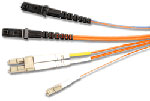 Optaka provides a complete line of fiber optic patch cords and assemblies. All orders ship promptly from our East Coast facility where we maintain stock of common configurations for same day shipments. Our VALUE product line meets all but the most demanding applications and VALUE patch cords are aggressively priced. The PREMIUM line meets or exceeds all industry standards and are designed for situations where only the highest quality will do.
Secure Fiber Optic Applications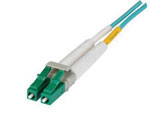 Optaka provides OEM solution for both Corning and Tyco Secure Keyed LC and MTP systems and patch cords.
The tamper-proof key design prevents intruders' access was designed to respond to an urgent requirement for products that perform in secure or government classified fiber networks and it is based on the LC and MTP Small Form Factor fiber optic connectors. Keyed connectors and adapters on the front and back of the patch panel are used to match access rights to the proper zone or network. The key features in the connector and adapter cannot be duplicated with standard LC and MTP components thereby preventing violation of network security.
Plug and Play Solutions
Optaka's PLUG and PLAY MTP Assemblies take small form factor expertise to a new level of performance.
We have combined the latest and most advanced cable designs, MTP connectors, and unique breakout concepts to provide robust user friendly products that are highly flexible and fit into the smallest conduits. All accessories and packaging have uniform design features.
Optaka's Plug and Play systems can be deployed more than 75% faster than field terminated fiber assemblies. All pre terminated assemblies are fully warranted and come with test reports.
MTP-LC HYDRA
Optaka's unique MTP-LC HYDRA solution for MTP-LC interconnects offers a more secure, robust, and lower cost alternative to traditional cassette and fan out assemblies.
Applications include cabinet-to-cabinet or blade servers where discrete fiber assemblies are too bulky. The cable assemblies are well suited for telecom applications such as multiplexers, switches, routers and for interconnecting high-speed enterprise servers and test equipment.
MTP-LC HYDRA Product features:
Ideal For Blade Servers
MTP Round Boot connector – Latest design of industry leading US Conec. Designed to be compatible with microcore cables. No Fan out kit is required.
Microcore cable – Small round diameter cable designed for Plug and Play and MTP
LC Uniboot connector – features a one-piece molded duplex boot that provides excellent optical performance and superior mechanical strength
Request for Quote
We welcome any questions or comments or to place your Request For Quotation please click on the link below or call us at 508-845-8404.